As we step into March and the end of Q1 comes in to sight it's worth taking a look at some of the changes that have taken place in the market.
Two in particular caught the eye of the BondAuction team
The need to identify true demand
Last week the ECB stopped purchases of new covered bond syndications, this follows the slow down in net purchases that first started in April 2022.
Having seen net new monthly purchases fall from €40bn, to €20bn in three consecutive months, the market had to contend with just reinvestments of existing assets between July of last year and February this year.
Now things have moved on further still, with only partial reinvestments from the Asset Purchase Programmes (APP) beginning this month.
Whilst this slowdown is gradual and has been well flagged, it will undoubtedly lead some issuers to question certainty of execution when the largest and most dependable buyer eventually exits entirely.
Order book inflation is common in a book building process in the primary markets. Whilst this creates momentum in a book and allows for price tightening, it is of course virtually impossible to determine where real investor appetite sits.
The BondAuction platform addresses this fundamental concern ensuring true market appetite is communicated to underwriters and issuers. This means investors receive a full bond allotment if bidding inside the clearing level or a partial allotment if bidding at the clearing level. A single pricing point encourages competitive bidding for a full allotment.
Net asset purchases by programme under APP.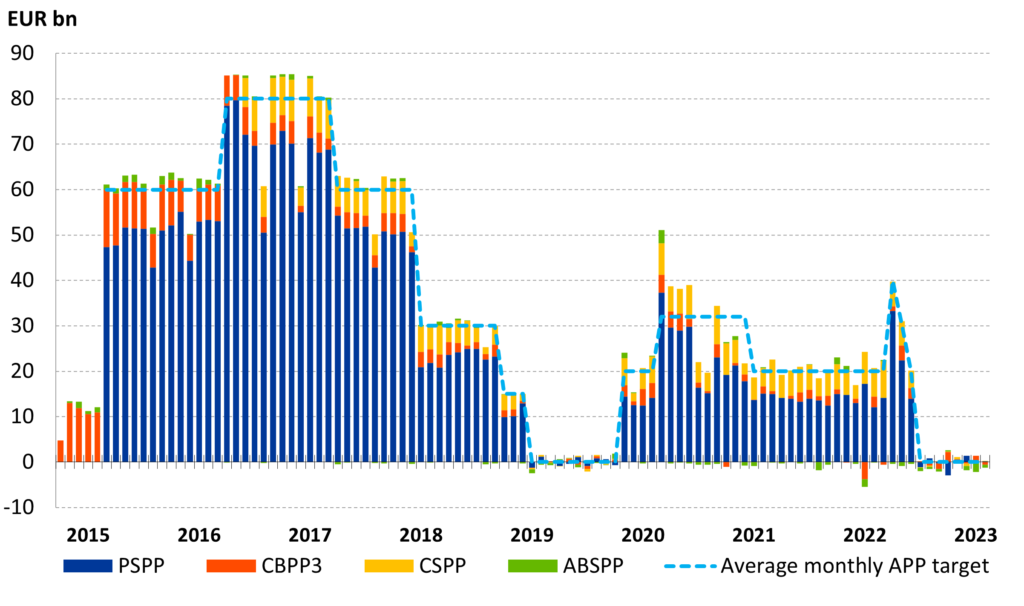 Collaborate, Integrate
BondAuction was present at an Events Radar panel in November of last year. This was an excellent forum with a broad representation of emerging and existing solution providers.
The timeline and process lifecycle for issuance in the Primary Debt Capital Markets was looked at by the panellists.
What was clear is that whilst some platforms cover more than element of the lifecycle, some such as BondAuction are tightly focussed on just one area.
This does not detract from the resultant theme, that Collaboration and Integration were front of mind for all those present.  The concluding prediction from the event was these platforms would increasingly coming together to offer a seamless experience for market users.
Subsequently we have been pleased to announce or collaboration with NowCM for documentation and data flow as well as Bid flow, and also our collaboration with Liquidnet allowing direct connectivity and Bid flow from Order Management Systems.
There have been other announcements away from us of course, but all serve to reinforce the theme.
BondAuction is busy working on further collaborations as we recognise that users will want optionality, and we look forward to making further announcements in due course.